The online tutor has to transfer the planned content into an acceptable digital format. An online course requires even more detailed organization in advance than a traditional course, since the digital learning environment has to fit the learners before the course takes place, due to the limited modification options once the course is running (Wilson & Stacey, 2004). In traditional classrooms the trainer can spontaneously react to the learners within a session and adapt if necessary. This is only a limited option when teaching online. The developed course can be changed during a session, but this will lead to loss of quality learning time and cognitive attentiveness (Bigatel et al., 2012). In an online setting, effective modifications can only take place between sessions. Hence, the concept of the course has to be well thought through. The online tutor has to be aware of the content that will be taught, which ICT tools will be used to actively involve the learners and through which communication channels the learners will be supported by the online tutor (Smith, 2005; HRK, 2016). Also, when working with different teaching methods, the adequate technical transition has to be available as well (Goodyear et al., 2001). Profound technical skills also allow the trainer to efficiently combine different digital teaching scenarios within a course, whether it is a lecture, seminar, smaller group work or individual support (Bachmann et al., 2002). To keep that methodical diversity, it is important for the trainer to stay informed concerning the latest technical developments (Smith, 2005; Goodyear et al., 2001; HRK, 2016).
If you want to learn more about the process of digitalization or on how to transfer documents into digital formats such as HTML, please have a look at TM1.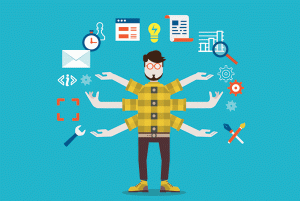 (source: https://www.pinterest.com/pin/283937951490646000/)
Know your platform
Any developed course will be hosted on a platform to allow learners to participate in it. Each platform will have its individual functions. For education institutions those platforms are mainly referred to as learning management system (LMS). On those platforms, every online course that is being offered by the educational institution will be hosted. Hence, the trainer should become familiar with the operation of the platform, and with the functions that can be effectively implemented into the course. The most common LMS are: Moodle, ILIAS, StudIP and Blackboard.
Basic functions of each platform will include:
Uploading & downloading documents
Using forums
Direct interaction between users (personal messages)
Offering links to other digital resources
Every LMS will also have different functions, e.g. Moodle provides options for collaborative tasks or peer-reviews (Bigatel et al., 2012).
Available tools and formats
Once the online tutor is familiar with the LMS of the educational institution, optional digital tools can be implemented into the online course (separate tools, plug-ins). There is a huge variety of information and communication technology (ICT) tools that are generally compatible with LMS.
The training approach should consist of using diverse teaching strategies to reach diverse learners. For adequately implementing those diverse teaching strategies, picking different ICT tools will increase the learners' attentiveness.
When adding different ICT tools to the online course, it is important to keep the targets in mind. The learners should learn about a specific subject, therefore the diversity of ICT tools should be supportive for reaching those targets (Devedzic, 2004). If too many elements are being added to an online course, the learner will get confused or distracted by them and won't be attentive towards the content of the online course.
Introducing the learner
An important technical skill of the online tutor is the ability to explain and introduce the learners to the online environment.
After the trainer conceptualized his online courses, added ICT tools and LMS functions, the online course is read for being used. Still, learners who will access the online course might require an introduction into this online environment. The online tutor has to be able to provide this necessary introduction. In a best case scenario the tutor already convinces the learners of the effectiveness of the online course, not only based on its content, but also on its functions and diversity. The course has to be easy to access, should be designed attractively and user-friendly to avoid scaring learners away.
Hence, developing an introductory element and user-friendly design are important aspects to establish a general accessibility of the online course.
Transition and translation
Having a concept for the course is vital for its success and effectiveness. In case a trainer wants to develop a digital version of an existing traditional course, the transition from face-to-face to digital has to be carefully accessed. Usually a developed course concept relies on the physical closeness which allows spontaneous modifications by the teacher based on the atmosphere within the classroom or the activeness of the learners. When translating a traditional course into a digital course design, each theoretical input has to be prepared and be paired with a learning activity. Forums have to be set up. Feedback-loops have to be defined. Deadlines have to be entered. Every minor detail has to be precisely translated into a digital format.
Simply uploading the PowerPoint presentation and creating a forum does not count as quality online tuition.
Every course has pre-defined targets and those targets have to be reached. In order to do that, the online tutor has to consciously assess the process of designing an online course (Goodyear et al., 2001).
Connecting
Due to the amount of available ICT tools, LMS functions and constant technological innovations, it is almost impossible to stay updated. Reaching out to other tutors who conduct online courses, subscribing interesting newsletters, logging onto different portals (LinkedIn, ResearchGate, etc.) will provide the necessary information structure to obtain the most relevant updates for the online tutor himself. Digital networking is a vital element for teachers and trainers who want to effectively teach online.
Such connections will provide helpful insights and advices or will aid solving occurring problems. A comprehensive network will also allow collaborations or access to other online courses.
The process of digitalization has been running for years in which a huge amount of online courses, ICT tools and other digital components have been accumulated. Technological expertise has been established internationally and requires interaction and collaboration to further develop, which makes it inevitable for trainer to network online.
Sustainability
When conceptualizing an online course, every designed element will be thought through. To establish a high quality standard for the teacher's courses, creating and constantly updating templates will increase the sustainability of his efforts.
New elements for an online course can either be developed from scratch or be based on an existing format. Both options will lead to an individual process in which the trainer will work on this element to adapt it to his needs and expectations. Once this step has been done, the developed element can be used as a template for upcoming online courses.
Also, depending on the networking activeness of the tutor, other online tutors can take elements of the developed online course and adapt them to their online courses. This form of validation will give the trainer feedback regarding the quality of the developed element and a general confirmation of the previously invested efforts.
Summary
In this unit, technical skills refer to the ability to effectively use technical or digital components for teaching purposes.
First of all, the trainer has to become familiar with the platform or LMS on which the online course be hosted. The provided functions should be usefully implemented into the course to make learners use the platform more often. Also, the online tutor has to adequately add ICT tools to the course to support the diverse tuition strategies.
Developing an online course requires a conscious process by the trainer to translate the concept into digital components.
Once the course design is done, an introductory element has to be developed as well as a user-friendly design. This will allow learners to enter the online environment easier.
To stay updated, the trainer has to establish a digital network, consisting of personal contacts, informative platforms, comprehensive portals and contacts to other education institutions. Networking will proof itself as a vital element for constantly improving one's online teaching abilities. Once those abilities have reached a satisfying standard, templates of digital elements should be developed, to ease the process in the future when designing a new online course. Also, based on exchanging templates with other tutors, quality standards can be evolved whilst experiencing non-material confirmation of previous efforts.
To review existing platforms that offer online courses for free, please review "Get inspired" in TM3, Unit1.